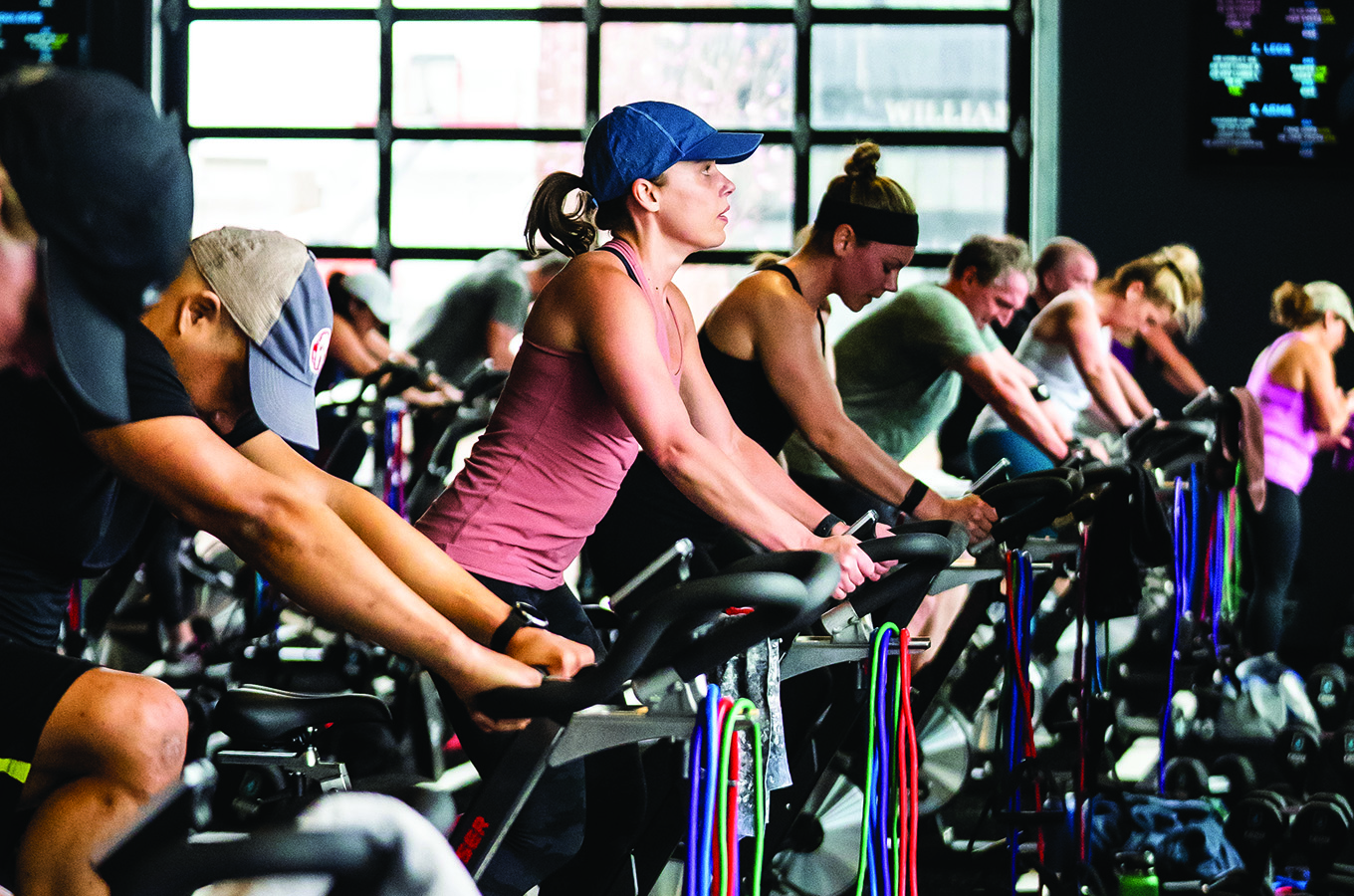 The Drive Method
Your success starts with the Drive Method, we immerse you in a fitness experience that creates life-changing results. Our 55 minute customized fitness classes are designed to meet every member's needs.
Synergy
Synergy is our strength training group class system that helps you develop and build lean muscle mass. It's more than just "pumping iron"–it's challenging resistance programs designed to tone and sculpt your body by working every muscle group to its limits. Discover the strength you've been looking for.
Drive Burn 500-1100
SUN PYRAMID:
Increase your resistance as rep counts lower.  
MON FUEL:
Isolated muscle group focus, 10 minute sets.  
TUE B2S: 
Strong resistance sets followed by high rep burnouts.
WED POWER to BURN:
High intensity, low reps paired with moderate intensity and high reps. 
NEW THUR SPLIT:
Activate your core temperature and prepare for strong upper and lower compound and isolated movements. 
FRI LOWER:
Lower body and core focus featuring strength + toning. 
SAT  DIESEL:
4 explosive rounds of targeted push/pull movements.

C2S
Drive Custom Fit's most innovative and explosive program ever created. Cardio to Strength is the foundation, as we find heart rate adjustments to deliver an intense burn. C2S is true high-intensity interval training. Experience bursts of cardiovascular work and breaking out the dumbbells and resistance bands for strong muscle-group isolations delivering the most optimal results.
Drive Burn: 600-1200.

Knockout
It's all in the name. Knockout is our high-intensity interval training (HIIT) methodology that truly makes an impact. All programs are designed to spike your heart rate for maximum calorie and fat burn, both during and after your workout. The cardio and resistance circuits in Knockout work your full body and feature intervals of varying lengths so everyone can find a class that works for them.
Drive Burn 600- 1200
SUN COMPOUND:
Cardio and resistance breakouts paired with bike sprints.
MON ACCELERATE:
A program comprised of integrated phases to challenge resistance and elevate the heart rate to train at a high metabolic rate from start to finish.
TUE STRENGTH-FOCUSED:
Strong resistance program intervals with bike breakouts. 
WED CARDIO CORE: 
Core circuits with cardio bursts.
THUR Z80: 
Compound movements + cardio bursts, targeting 80% average heart rate.
FRI KO:
Full-body resistance + cardio 1-minute intervals. 
SAT DRIVE EXTREME: 
Expect something different every Saturday.

Phase 16
Turn up the bass, turn up the treble and immerse yourself in an audio-pumping, heated environment that will light up your senses and deliver the ultimate burn.
Keiser M3i bikes are the foundation to tempo, resistance, and power (watts), combined with dumbbell strength, core, and cardio work. Fuse it for a phased approach to an engaging and dynamic experience that will peak and challenge your endurance levels.
Drive Burn: 600-1400
Shred
As a leader in heated fitness, SHRED is one of our most popular programs. Custom designed in-house for a target temperature of 95 degrees to increase heart rate, blood flow, calorie burn, and core temperatures for the entirety of the class–all Shred programs create the environment you need for increased athletic performance or weight management. Are you ready to shred?
Drive Burn 600-1300
SUN H-N2O:
Isolated push, pull and lower body resistance sections are broken up with cardio core and calorie blast breakouts.
MON  H-DIESEL:
Full-body + lower, 4 rounds of targeted push/pull movements.
TUE MAX SHRED:
A Drive Original, full-body resistance sections + cardio breakouts, expect a challenge every week.
WED  H-ACCELERATE:
A program comprised of integrated phases to challenge resistance and elevate the heart rate to train at a high metabolic rate from start to finish.
THUR HKO:
Full-body resistance + cardio 1-minute intervals.
FRI  H-SYNERGY: 
Heated resistance 1 minute per exercise.
SAT HCC: 
Cardio bursts + core circuits.
Mind & Body
Yoga at Drive is all about balance. Our Mind/Body programs blend strength and flexibility, often in heated environments to elevate not only your practice but how you take it with you out into the world. We have programming options for all levels, and our yoga is customized to complement existing fitness programs, prevent injuries, and aid in recovery. It's all about finding your flow.
Drive Burn: 350-1400.
POWER:
Invigorating + energizing, balanced practice, heated.
RECOVERY:
Slow yoga flow combined with active stretching, for increased mobility + flexibility.
POWER TO STRETCH: 
A Drive favorite combines Power Yoga + Recovery.
FLOW:
Choreographed breathing and movement for graceful + fun sequences.
DEFINE TRADITIONAL:
Power practice + weights for added resistance and intensity.
DRIVE BARRE:
Combines classic Barre + bodyweight exercises with high reps and a smaller range of motion. 
TORCH:
Cardio intervals to tone legs and core while accelerating heart rate to burn body fat.
Take a look into The Drive Method