Have you noticed the new Nitro Cold brew tap located in our Café?
The addition of the Nitro Cold Brew on tap will give you that perfect pick me up t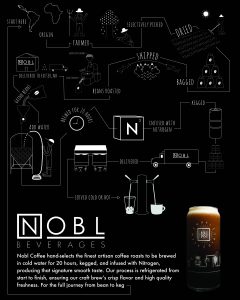 o get through your day! Cafe Fit by Drive offers free wifi perfect for a quiet place to work or a casual meeting.
What exactly is Nitro Cold brew? Nitro Cold brew is cold brewed coffee charged with Nitrogen to give it a rich creamy taste without dairy or added sugars. Due to this the Nitro Cold brew has a smoother less acidic taste than regular iced coffee. Some may say it is just as satisfying as having dairy or sugar but without the negative effects. Due to the no additives Nitro Cold Brew is also Drive Detox approved! Feeling sluggish and need a pick me up? With 1.5 times more caffeine per ounce than regular coffee Nitro Cold brew makes the perfect pre-workout
How exactly is Nitro Cold Brew made? Nitro Cold Brew starts with regular coffee beans that are then brewed in cold water for 20 hours. After the cold brew is brewed they then infuse it with Nitrogen in a keg. This gives the coffee the frothy texture and increases the caffeine levels. This makes a great addition to any shake here in the Cafe Fit by Drive!
Stop by Cafe Fit by Drive today to grab yours!